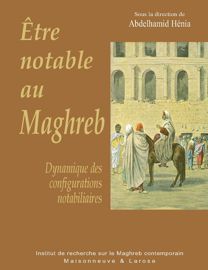 In the edited book Être notable au Maghreb: dynamiques des configurations notabiliaires published by the Institut de recherche sur le Maghreb contemporain in 2006, there are two essays on notables in Libya during the late Ottoman period and just after the Italian conquest. Fortunately, the entire volume is available for free online, over at OpenEditions.org (of course, if you can read French). Both are highly recommended, as much for their unique views into lesser-studied subjects as well as for their very useful notes and references that are otherwise difficult to come across.
Lahmar, Mouldi. "Libyens et Italiens en Tripolitaine (1911-1928): Quels territoires d'allégeance politique?" [Libyans and Italians in Tripolitania: what grounds for political allegiance? | ليبيون و اطاليون في طرابلس: ما هو اساس الولاء السياسي؟] pp.  121–138.
Lafi, Nora. "L'affaire 'Alî al-Qarqânî (Tripoli, 1872)" [The affair of Ali al-Qarqani in Tripoli, 1872 | قضية علي القرقاني في طرابلس ١٨٧٢] pp. 204–217. (Many of Nora Lafi's articles can be read online, at her academia.edu page).