During this month we will focus on the Fezzan, Libya's southern region. This region is covered by so little Western journalism that a Twitter account was started simply to produce reliable information from and on it: the Fezzan Libya Media Group. It would be beneficial to focus on the Fezzan from an academic perspective, too. Like other parts of Libya, the Fezzan has interesting people, cultures, and histories. So to start off with, another open-access publication: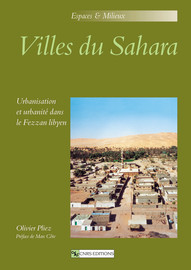 Villes du Sahara: Urbanisation et urbanité dans le Fezzan libyen [Cities of the Sahara: Urbanization and urbanity in the Libyan Fezzan]. ed. Olivier Pliez. CNRS Éditions (2003).
The book is divided into three sections, which discuss "the cities of the Fezzan between the State and crossroads", "local dynamics framed by the State", and "towards a Saharan urbanity". An essay by the same author, also on urbanization in the Fezzan (also in French) titled "An urbanity without a city?" , is also available online.